Happy New Year!
In a previous position at work I maintained a blog where I posted topics, tips, and tricks surrounding the use of the system I managed. One of these tips was how to properly adjust a microphone input level within Windows XP, Windows 7, and OS X. I wrote the posts around the context of the application that used the computer's microphone and I wrote them for the audience of the University I work for. These were only indended for these users, however search engines crawled these pages and I supposed I used the right combination of keywords because it's one of the most popular resources on the internet today for troubleshooting people's microphones around the world.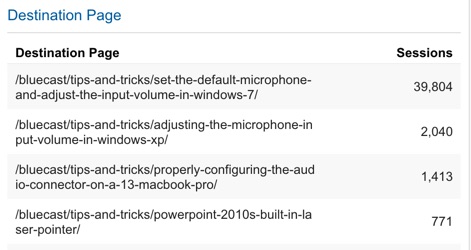 When I discovered how popular these pages were I added a StatHat tracker to the Windows 7 page. Recently (the day after Christmas, 12/26/15) I received an alert email from StatHat saying there was an unusually high count of views on my Windows 7 page.



I thought this was kind of odd. There's been a steady amount of traffic to this page so I wondered why the sudden spike and then I realized- People were probably gifted new computers for Christmas and they are now trying to use Skype and having problems getting their microphones to work. Here's the daily graph from StatHat for the visitors to the Windows 7 page:
This is live so it will update as time goes on, but currently at the time of this posting there was a big spike on Christmas day.
So with this I thought it would be fun to take a look at the past year of people troubleshooting their microphones using my guide. These are screenshots from Google Analytics and Google Webmaster Tools with a date filter for this past year.
Audience Overview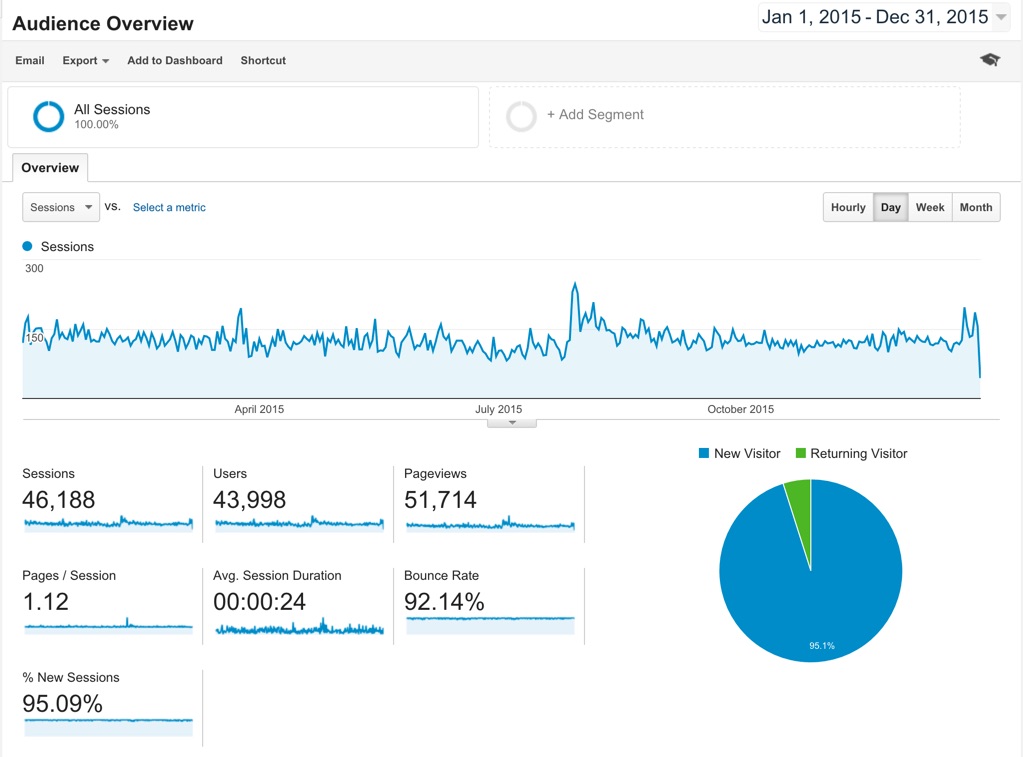 ---
####Geographic Visits - World ![Visits from around the world](/content/images/2015/12/location_world.jpg) 175 Total Countries.
---
####Geographic Visits - United States ![Visits from US](/content/images/2015/12/US_Locations.jpg) All 50 States represented plus the District of Columbia
---
####Referrals and Social Media Referrals ![Referrals](/content/images/2015/12/referrals.jpg) One of the more interesting referrals? ![My Free Cams?](/content/images/2015/12/freecamsAll_Traffic_-_Google_Analytics.jpg)
---
####Links to the page ![](/content/images/2015/12/Search_Console_-_Links_to_Your_Site_-_http___blogs_creighton_edu_bluecast_.jpg)
---
####Search Result Clicks and Result Position ![](/content/images/2015/12/Search_Console_-_Search_Analytics_-_http___blogs_creighton_edu_bluecast_.jpg)
---
Another interesting source of organic traffic (that I can publicly see) is from Twitter and folks tweeting one and other the link to try and help others: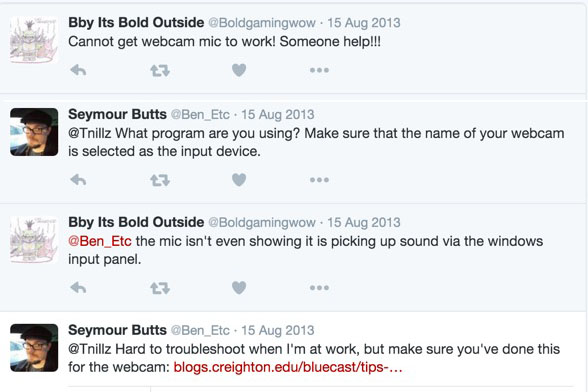 One of my favorites, Thanks Dell:



*Yep, del.ly/6011oHBh is a shortened link to my Windows 7 Microphone guide.
And finally, again one of the most interesting Tweets:



If you look up the Twitter profile of @TheAnnAngel, you'll see that she's a "cam girl". So there we have it. I've helped the online webcam model industry with making sure their microphones are working.