With the coronavirus forcing all of us to practice social distancing and forcing us to work from home and learn from home more and more companies are flocking to services like Zoom to stay connected and keep operations and learning going without needing to gather in places together. Unfortunately, bad actors and internet trolls are taking advantage of this. There are some best practices to securing your Zoom meeting and not letting trolls take over your meeting or virtual classroom and cause harm and disruption.
Log into your Zoom account, go to your settings and change these now:
Change Screen Sharing to Host Only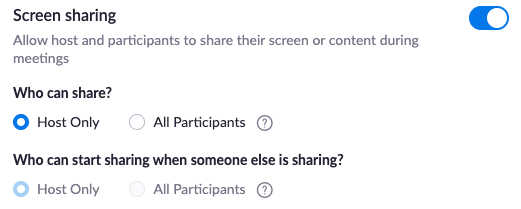 This prevents anyone other than you or someone you give permission to to start sharing their screen and potentially unwanted content or materials.
Turn off Allow Removed Participants to Re-join

If you remove someone from the meeting, this prevents them from being able to re-join.
When scheduling a meeting, add a password!

A random number gets generated automatically when enabled, or you can enter in your own.
Lock your meeting once everyone you expect has joined
Click the "More" button in the Participant List and click "Lock Meeting"
Don't let the public join your Zoom Meeting, use the Live Streaming Feature!
If you don't have access to Zoom Webinar, this is is definitely one of Zoom's most unsung features. I wish more platforms had this capability. You can connect your Zoom meeting directly to Facebook Live, Youtube Live, or any live streaming platform that supports RTMP Ingest. This allows the public to view and engage with your Zoom meeting through those live streaming and social platforms, but not disrupt your meeting.
Learn more about this feature on Zoom's support site here
These tips should keep most of the rift raf out of your meetings and let you stay productive. Check out more of my tips on using Zoom and other web conferencing tools here!